Committee

Members

Faculty Affairs

Prof. Sanea, Prof. Soliman, Prof. Khdeir, Prof. Foda

Recruitment and Demonstrators

Dr. T. Al-Bahkali, Prof. A. Al-Saif, Dr. Nuhait, Dr. Al-Bassam, , Dr. Al-Majid, Dr. Al-Ammar, Dr Hany Al-Ansary

Academic Programs and Accreditation

Dr. E. Al-Bahkali, Dr. Al-Majid, Prof. Soliman, Prof. Eldanaf, Dr. Ben Yahya,

Dr. El-Leathy, Dr. Ramadan, Dr Hany Al-Ansary

Graduate Studies

Prof. Eldanalf, Dr. Zeitoun, Dr. T. Al-Bahkali, Dr. Orfi, Dr. El-Leathy, Dr. Abdelrazeq, Dr. Aras

Quality and Strategic Planning

Dr. Ben Yahya, Prof. Eldanaf, Dr. Salim, Dr. Zakariya, Dr. Abbas, Dr. Ahmed Ibrahim, Dr. Sadek

Computing Services

Dr. Al-Witry, Dr. Al-Ammar, Dr. Ramadan, Dr. Aras

Graduates and Senior Projects

Dr. Al-Bedah, Prof. Foda, Dr. Al-Atta

Purchasing and Laboratories

Dr. Al-Majid, Prof. M. Ali, Dr. Al-Witry, Prof. Ali, Dr. Salim, Dr. Abbas

Student Registration

Prof. Soliman, Dr. M. Ramadan,  Dr. Al-Ammar

Media and Outreach

Dr. Al-Witry, Dr. El-Rayes,

Statistics and Information

Dr. Zeitoun, Dr. Ibrahim, Dr. Sadek, Dr. Abdelrazeq, Prof. M. Foda

Student Affairs and Academic Advising

Dr. Al-Atta, Prof. Al-Mujahid, Prof. Sanea, Prof. Soliman, Dr. Orfi

Teaching Schedules

Prof. Zedan,

Social Activities

Prof. Ali, Dr. El-Leathy, Prof. Es-Saheb

Summer Training

Prof. Khdeir, Prof. Es-Saheb, Dr. El-Rayes, Dr. Zakariya
Scientific Group Coordinators
Thermal-Fluid: Prof. Zedan
Design, Materials, and Control: Dr. E. Al-Bahkali
General Engineering Coordinators
GE 202: Dr. Al-Bassam
GE 105: Dr. Ben Yahya
GE 104: Dr. Al-Bedah
Workshop: Dr. El-Rayes
Other Activities
| | |
| --- | --- |
| Department Council Secretary | Prof. Es-Saheb |
| Department Representative at Research Center | Prof. Sanea |
| Department Representative at College Journal | Prof. M. Ali |
| College Academic Committee Member | Dr. A. Al-Majid |
| College Graduate Studies Committee Member | Prof. Eldanaf |
| College Strategic Plan Implementation Committee Member | Dr. Zeitoun |
| Textbook Orders | Dr. A. Ibrahim |
| Summer Training Coordinator | Prof. Khdeir |
| Seminar Coordinator | Dr. J. Orfi |
| Student Absence Forms | Prof. M. Foda |
| Exam Proctoring Coordinator | Eng. H. El-Kinani |
| Overtime Forms | Eng. Saad Ibrahim |
Society Mechanical Engineering Students
The idea of establishing (Society for students of mechanical engineering) Comes for the importance of developing the level of the department and its students academically and geometrically, the idea was started at the beginning of the season 1427, with the adoption of the chairman Dr. Abdulhakiem AL-Maajid and Dr. essam Albahkali and Dr. Magdi Al Rayyes, and with some effective Section students, Saeed Al-Dossari, chief of "mechanic magazine" Mohammed Al Rudaini and currently society Chairman Ahmed aljohar.
Society Goals
     - The development of scientific thought and engineering in the field of mechanical engineering.
 
     - Coordination between industry sectors through communication among employees who graduated from Section.
 
     - Carrying out regular seminars, workshops & educational courses.
 
     - Publishing studies, newsletters, periodicals.
 
     - Training development.
 
     - Working on the development of education and training in mechanical engineering.
 
     - Students skills development in mechanical engineering.
Vision
Society administration of mechanical engineering section is a reference for students academically and indicative.
Mission
Upgrading Section and its students academically and engineering.
Board of Directors
Previous Board of Directors
Election Conditions:
     1. The student Be at the of King Saud University of at the Faculty of Mechanical Engineering.
 
     2. The student has Weathered the fourth level of the Academy plan.
 
     3. Be The rest of the Student at graduation year or more.
SMES Logo: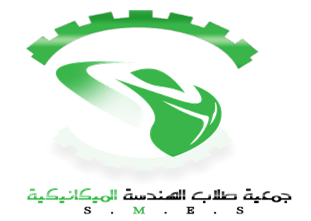 Computer Committee
The Section has formed a Computer Committee, The work of this Committee under the umbrella of the E-Transaction unit at the College of Engineering to create and update the website of the Department of Mechanical Engineering on the University site.
This site includes information related to the department in terms of objectives, study plans, laboratories, activities of the Section, as well as information on faculty members and their activities. This section looks to be a site for an additional point of contact with students and alumni section and public and private institutions.
The Activities of the computer committee for this year:
     - Supervision of the needs of teaching and research section of the computer and software.
 
     - Coordination with the Computer Center in regards to the needs of teaching and research section.
 
     - The continued development and supervision of the updated website of the department.