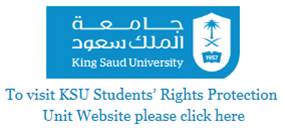 Students' Rights Protection Unit
The students' rights protection unit aims to create an academic environment in favor of student rights based on legal foundations inside the university.  The unit is responsible for looking into the written complaints and grievances of students concerning:
Academic concerns such as student complaints concerning material errors in the monitoring of the degrees of final exams, without having the right to intervene in the discretion of assessments of the faculty member who corrected the exam.
Complaints concerning arbitrary and ill-treatment by faculty members.
Complaints related to depriving students of university services provided for other similar students.
In an unfortunate event of a faculty member or a university employee ill-treating you or imposing an injustice, the student is highly recommended to immediately file a complaint at the secretary of the unit at the Vice Dean for Development and quality office.
Members of the students' rights protection are:
Vice Dean for Development and Quality (Coordinator)
Vice Dean for Research and Graduate Studies (Member)
Vice Dean for Academic Affairs (Consultant)
Head of College Quality Unit (Member)
Two Rational and academically outstanding students
A Secretary from the Vice Rectorate for Development and quality staff