AUTOMATIC CONTROL LABORATORY
---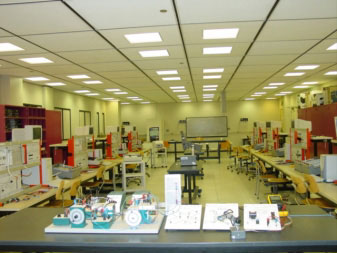 Lab Description:
This laboratory is equipped with basic instruments and real time experiments that are necessary to familiarize the students with the basic concepts and updated technology in the automatic control field. The undergraduate experiments are designed to reinforce and expand many concepts covered in the automatic control course EE 351 and digital control course EE452.  The following systems are available in this lab to perform the experiments, projects and research in the area of Automatic Control Engineering:
     - Speed Control System.
     - Position Control System.
     - Temperature Control System.
     - Filling Level Control System.
     - Computer controlled systems such as:
          Traffic Light.
          Washing Machine.
          Thermal System.
     - Modern control techniques such as:
          Fuzzy Logic.
         Neural Networks.
    - PLC (Programmable Logic Control)-Siemens S7
    - PLC Application Modules :( Elevators and Conveyor belts)
    - Microcontroller Programming Kits including: (ATMEL 89C52, ATMEL AVR, and PIC series)
Lab Location: 1C 30, College of Engineering
Lab Engineer: Eng. Mohammed Ashraf Rabbani
Phone: +966 11 4676692
Email: mrabbani@ksu.edu.sa