High Voltage Laboratory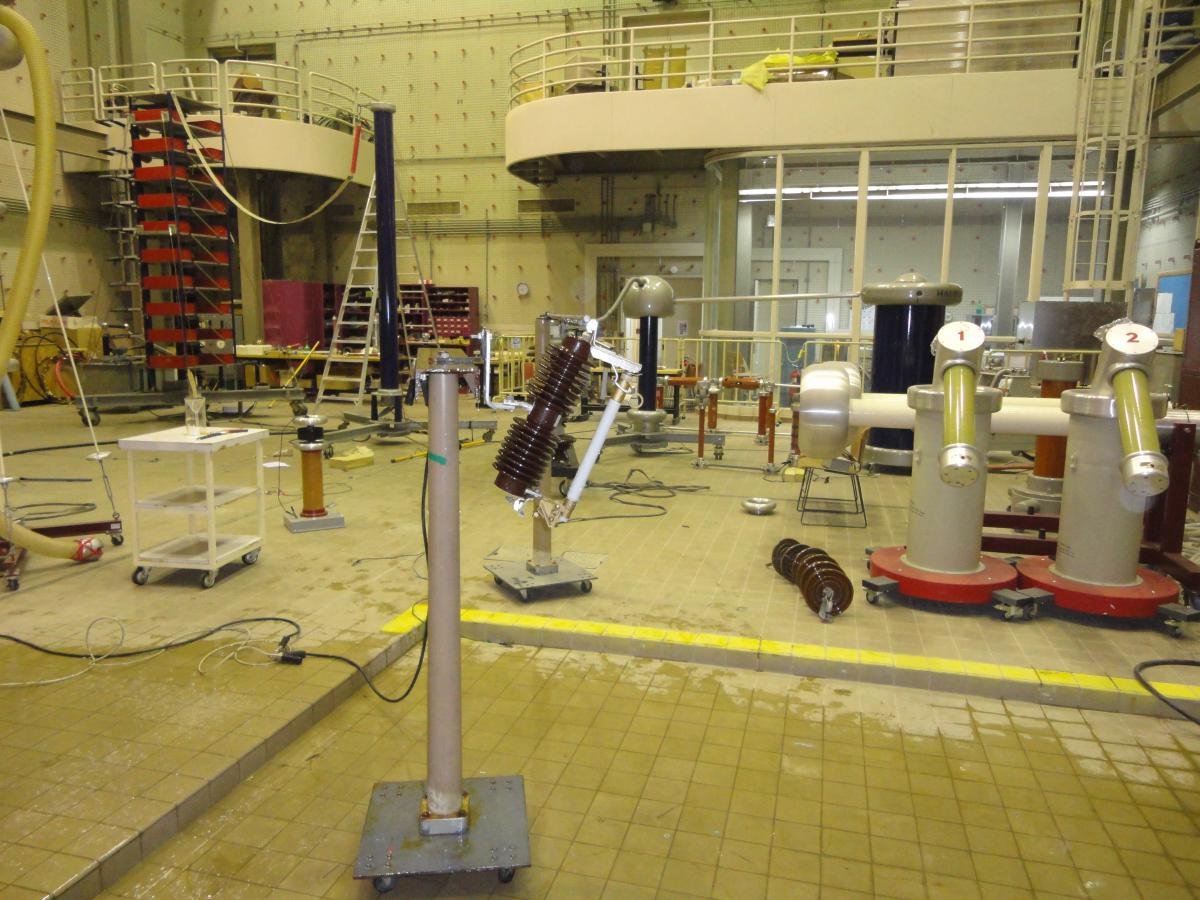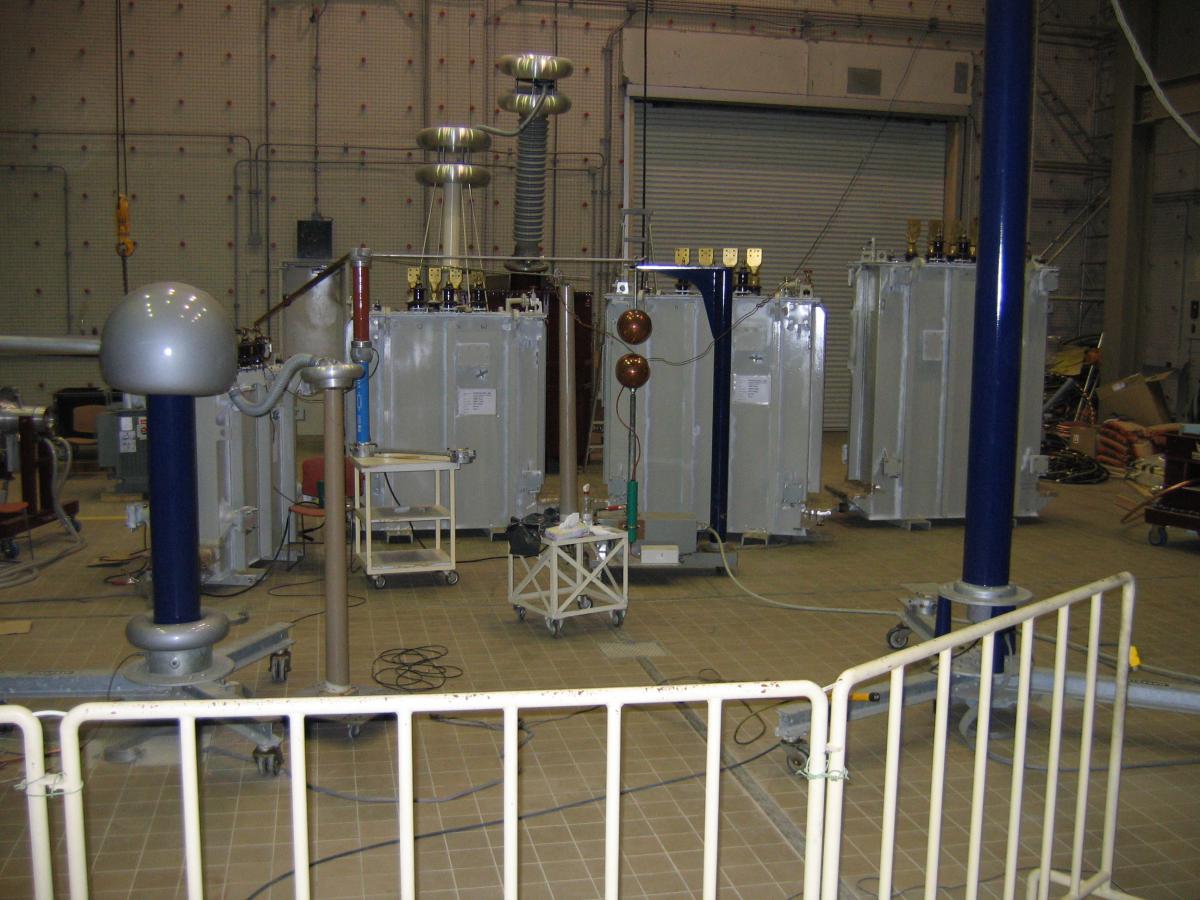 High Voltage Laboratory of Electrical Engineering Department - King Saud University is the only ISO/IEC 17025 accredited HV testing laboratory in the GCC region & KSU.
1. In-house Commercial Testing of High Voltage Power Equipment:
The following type of tests can be performed in the lab.
High voltage impulse testing (routine, type, sample, etc) for all types of high voltage equipment.
High voltage AC testing of different high voltage equipment for up to 300 kV.
Partial Discharge testing of different equipments for up to 100 kV.
Dissipation factor and capacitance measurements for different equipments.
Complete electrical type testing of medium and low voltage polymeric cables and accessories.
Breakdown investigations of polymeric cables for up to 300 kV voltage level.
For different equipments, the tests that can be performed are as follows:
Power/Voltage/Current/Distribution Transformers
High voltage impulse and AC tests at 60 Hz as per customer requirements. The tests could be type test, routine test, etc. for medium and high voltage equipment. Medium voltage transformers up to 15 MVA are being regularly type tested in the lab.
Switchgear and GIS/AIS
High voltage impulse and AC tests on GIS/ AIS units or its components, PD tests, dissipation factor and capacitance measurements, etc. are performed routinely.
Power Cables and Accessories
Complete range of electrical type testing as per IEC/ AEIC/ IEEE standards for medium and low voltage cables. Most of the non electrical type tests can also be carried out. Tests following other specifications on these equipments as well as long term accelerated aging tests as per AEIC can also be performed.
Lightning Arresters
Lightning and switching impulse high voltage tests on these units, AC tests as well as PD tests on these units can be performed as per IEC specifications.
Overhead Line Insulators/Bushings etc./Fuses
Dry and wet flashover voltage tests on such components, PD tests, dissipation factor tests, and puncture tests for medium voltage components, are routinely done for clients.
Insulating Liquids
Dielectric tests including impulse & power frequency breakdown, dissipation factor, tan delta measurements, partial discharge and conduction current measurements, moisture content and other physic-chemical characteristic factors to determine the oil quality evaluation can be performed.
EMI measurements
EMI measurements on power over head lines or equipment can be performed.
2. Onsite Field Testing:
KSU HV lab has used its expertise in diagnostics of field installed power equipment for various utilities and industries such as ARAMCO, SASREF, SEC and others.
Some Examples are:
POWER CABLE CONDITION ASSESSMENT BY USING IRC, RVM, VLF & OPLD TEST TECHNIQUES done for many Saudi Aramco refineries and Saudi Electricity Company.
POWER EQUIPMENT CONDITION ASSESSMENT BY ONLINE PARTIAL DISCHARGE MEASUREMENTS for Saudi Electricity Company and Saudi Aramco
ASSESSMENT OF GROUNDING SYSTEM INTEGRITY FOR ELECTRICAL SUBSTATION, POWER & INDUSTRIAL PLANTS FOR Saudi Aramco and Equipment manufacturers.
3. Typical Clients and Past Experience:
During the last 30 years more than 500 tests of various types have been performed on a wide range of high voltage apparatus for hundreds of customers. For each test performed, an official certified test report is issued. An example of some of our clients includes.
Apparatus

Manufacturer /Supplies

Distribution and Power Transformers

Saudi Transformer Co.,

Waha Electric Supplies Company,

United Transformers Electric Company

Alojaimi Electrical Industries,

Arabian Transformers Company

Cables and Accessories

Riyadh Cables Company,

Saudi Cables Company,

Jeddah Cables Company,

Al Fanar Electric Company,

Bahra Cables Company,

Middle East Specialized Cables Company, El-Swedey Cables Company, Gulf Cable, Company(Kuwait),

Taihan Cables Company (Korea),

Gold Star Cables Company (Korea) and Zachry Global Services, USA.

Metal Clad Switchgear

ABB, ESP, Schneider Electric, RFPB, WESCOSA, Al Fanar, TIEPCO, Al-Ojami, MOTS and several other.

Indoor/Outdoor

Insulators, Bushings, Fuses and Surge Arrestors

Produced by different manufacturers and tests performed for different clients.
These equipments were supplied to various electricity utilities including SEC, ARAMCO and several other end users in the Kingdom. In addition, the tested equipment was supplied to electricity authorities in UAE, Kuwait, Jordan, Oman, Yemen, Iraq, Bahrain, Qatar, Syria, Kenya, Algeria and others countries.The tests are performed as required by client as per relevant IEC, ANSI, SASO, BS, etc. standards. In addition the lab routinely provides other services such as educational training courses, consultations, investigative applied research and studies etc. Furthermore, this laboratory has regular auditing of the quality management system (QMS) & conducting various research and lab related activities.
4. Range of Services Provided by Lab:
The High Voltage Lab interacts with industry and provides a variety of services to different clients. These services include.
· Performing in-house and on-site testing on a variety of high voltage equipment.
· Offering specialized courses for training and development of human resource.
· Performing applied research and investigative studies required for industry, governmental departments, electric utilities and equipment manufacturers/ users etc.
· Performing advanced research on technical topics of current national interest.
· Witnessing type tests as third party experts.
· Providing expert opinion and arbitration as third party in case of disagreement between the supplier and the user.
· Investigations of causes of failure for different types of high voltage equipments.
· Working as a multi disciplinary research group to address the design and assessment of special products for national /regional users.