Structural Engineering Lab
 Structural Engineering Laboratories
Structural and concrete laboratories play an important role in serving academic and research programs for students and faculty members of the Civil Engineering Department. These laboratories conduct research and laboratory tests for several public and private sectors.
The role of these laboratories can be summarized as follows: Implementation of the experiments required for the practical courses in structural, concrete and graduation projects of a laboratory nature for undergraduate students and the research of master's and doctorate students in the structural track and concrete in the civil engineering department. In addition, in the  structural and concrete laboratories, experiments are carried out for research of faculty members and laboratory tests for research funded by the Research Center of the Faculty of Engineering and national projects supported by the Deanship of Scientific Research at the University. As well as laboratory tests for research funded by different sectors through the King Abdullah Institute for Research and Consultancy Studies and those for research funded by various government sectors such as King Abdulaziz City for Science and Technology, Saudi Basic Industries Corporation (SABIC), Riyadh City Secretariat and Arab Oil Company Limited (Aramco), And numerous private sector studies.
The  structural and concrete laboratories are equipped with latest technology and equipment for testing according to international standards. In addition to the academic role of these laboratories, many tests are carried out for the public and private sectors, either within the programs of maintaining quality , or in the technical research supported by different sectors, or on the new materials sought by some companies to enter into the local markets, or To understand the behavior of structural elements in order to develop building codes, or sometimes to conduct conflicts between different parties.
These tests are carried out on the structural materials of different types in order to find their properties and their suitability for the installations. These tests are also carried out on traditional and non-conventional concrete repair materials in order to determine their effectiveness in the repair of the concrete, in addition to durability tests, corrosion resistance, Long-term environmental conditions. In addition, modern techniques are chosen to increase the efficiency of various structural elements such as beams, columns, slabs, walls and concrete joints to resist the loads caused by earthquakes and explosions.
Laboratory Equipments and Capacity
The laboratory occupies 1200 square meters and the main structural test area is 60 meters long by 20 meters wide. Most of this area is provided with structural tie-down floors for attaching loading frames and test specimens.  Perpendicular steel frame for loading specimens horizontally. Two, overhead traveling cranes serve the structural test area.
Complete facilities are available for fabrication and instrumentation of test specimens. A comprehensive range of hydraulic actuators with 100, 500 and 1000 kN with hydraulic packs of 45 liter and 360 l/min output which permit application of range of static, dynamic, and fatigue loads. A variety of data acquisition systems are also available with measuring speed of 1000 samples per 1 sec  for static tests and up to 300000 samples per seconds for dynamic tests.
Upgraded TONITECH 600 kN UTM and newly added INSTRON 1000 kN UTM accommodates a variety of structural specimens, and computer-controlled static tests. It allows testing compression, tension and flexure.
A variety of complete range of transducers is available which enables wide range of measurement of load, pressure, displacements and in plane and out of plane rotations. Laser technology displacement transducers are also available. NABERTHERM oven 850oC enables high temperature test of structural components.  Studies range from detailed analyses to both static and dynamic tests on standard and full-sized structural systems.
An impact laboratory also exists as part of the group of structural engineering laboratories which comprises of an Impact penetration tester (Gas Gun) and a Split Hopkinson pressure bar system (SHPB). The impact penetration tester is capable of firing projectiles of different shapes and sizes at speeds of up to 300 m/sec. These impact tests play a vital role in the development of impact resistant structures throughout the kingdom. The Split Hopkinson pressure bar has a length of 20 m and a maximum diameter of 75 mm, which is one of a kind in the region. It could be used to characterize material properties under high strain dynamic loading conditions in compression.
Statics and Mechanics of Materials Laboratory
Statics and Mechanics of Materials laboratories are also available for our undergraduate students who are taking GE201 Statics and CE302 Mechanics of Materials courses. In these laboratories, some demonstration models exist and our students can visualize the concepts taught in the lectures through these models.   
Apparatus/Facilities in the Structural Engineering Laboratories
Including facilities at Bin Laden Research Chair and Concrete Research Center (CoE-CRT)
S.No.

Name of Laboratory

Name of Apparatus (Instrument)

or

Facility

Type of Test or analysis performed by the apparatus(Instrument)

Location of Apparatus

Person

In charge

Contact Number

1

 

 

 

 

 

 

 

 

 

 

 

Structural Laboratory

 

INSTRON Tensile Testing Machine (1000 kN)

Tensile strength and Elastic modulus under Uni-Axial Tension for Metals and Composite materials (Up to 32 mm in Diameter)

AB12

Eng. Mohammad Saleem Shaik

4676971

/0507991486

2

INSTRON Tensile Testing Machine

(600 kN)

Tensile strength and Elastic modulus under Uni-Axial Tension for Metals and Composite materials (Up to 25 mm in Diameter)

3

AMSLER Press (10000 kN)

1)   Compression tests on Full scale columns.

2)   Flexural Tests on Full-size beams (Up to 3 m in length)

4

TONITEK Universal Testing Machine

(600 kN)

1)      Compression tests of Standard Concrete Specimen.

2)      Flexural tests on standard Concrete Prisms.

5

MTS Actuator

(Load: 1000 kN,

Fre: 10hz)

Dynamic testing of Structural elements (Beam-column Joints, Beams etc.)

6

INSTRON Actuator (500 kN)

Dynamic testing of Structural elements (Beam-column Joints, Beams etc.)

7

NABERTHERM Oven (850°C)

Heating of Specimens (Max. Size 1 m x 1 m x 1 m)

AB12

Eng. Rizwan Iqbal

4670637

/0556450138

 

 

8

 

 

 

 

 

 

 

 

 

 

 

 

 

 

 

 

Strength of Material Laboratory

LONGWIN Impact penetration tester LW9396

(Projectile speeds up to 300 m/sec)

Projectile Impact penetration tests on Slabs and Beams (Hemispherical, Ogival, & Conical Shapes of projectiles)

 

 

 

AB7

 

 

 

 

Eng. Rizwan Iqbal

 

 

 

 

4670637

/0556450138

9

LONGWIN Split Hopkinson Pressure Bar Tester

(20 m length; Bar Diameter: 75 mm)

Compression testing of metals and concrete-like materials at High Strain Rates

10

TONITEK Compression Testing Machine (3000 kN)

1)   Compression testing of Standard Concrete & Rock Specimens.

2)   Split Tension Tests for Concrete Cylinders.

11

Fastcam SA1.1 High Speed Camera

High Speed Imaging

12

PROCEQ Digital Schmidt Hammer

Compressive strength of concrete-Empirical

13

PROCEQ Digital Pull-Out Tester (Bond Strength)

Bond Strength of Concrete as well as FRP materials

14

PROCEQ Permeability Tester

Concrete Permeability Tests

15

PROCEQ Ultra Sonic Pulse Velocity Tester

Concrete Soundness/Compressive strength-Empirical

16

HILTI 2-D Structural Scan

Location of steel rebars in structures

17

GSSI 2-D, 3-D Structural Scan

Structural Scan for location of rebars, Anomalies in Concrete etc.

18

HILTI Concrete  Breaker Hammer

Concrete repair work, Demolition, Chiseling work etc.

19

HILTI Concrete Coring Drill

Coring of Concrete Samples (Up to 50 mm in Diameter)

20

 

 

Cement Processing Lab

Vicat Apparatus

ASTM C187 Normal Consistency & ASTM C191Time of Setting of Hydraulic Cement

AA44

Eng.  Zafarullah Quadri

46-75680

0561477903

21

CONTROLS Automatic Sieve Shaker D4O6

ASTM C136 Sieve Analysis of Fine & Coarse Agg.

22

CONTROLS  Pycnometer & Electronic Balance

ASTM C128 Specific Gravity & Absorption of Fine & Coarse Aggregate

23

 

 

 

 

 

 

 

Concrete Lab

CONTROLS Slump Measuring Apparatus

ASTM C143 Slump of Hydraulic-Cement Concrete

AB10

Eng. Zafarullah Quadri

46-75680

0561477903

24

Compaction Factor

BS 1881 : Part 103 Method for determination of compacting factor

25

CONTROLS Cylinders

ASTM C29 Unit Wt & Voids in Agg

26

Flow Table Test

Flow of Mortar

27

Pressure Meter

Air Content of concrete

28

Tilting Drum Mixers of different Sizes

Mixing Concrete

29

Pan Type Mixer/ Hobart Type Mixers

Mixing Concrete / Mixing Mortar

30

Vibrating Tables

Compacting Concrete

31

Air-permeability Apparatus

Fineness of Cement

32

 

 

 

 

Concrete Materials Lab

Toni Technik Compressive & Flexure Machine (Compression 3000 kN & Flexure 50 kN Capacities)

ASTM C39 - 17b Standard Test Method for Compressive Strength of Cylindrical Concrete Specimens & BS 1881-116 Method for determination of compressive strength of concrete cubes

AB6

Eng. Zafarullah Quadri

46-75680

0561477903

33

Permeability Test Apparatus

ASTM C1202 Rapid Chloride Permeability Test

34

Toni Technik Compressive & Flexure Machine (Compression 3000 kN & Flexure 50 kN Capacities)

Strength Tests on Cement Mortars:

ASTM C109 Compressive

ASTM C348 Flexural

ASTM C190 Tensile

35

 

 

 

 

 

 

 

Self-healing Materials Research Lab

Laminar flow unit

For aseptic transfers

AB23

Eng. Rizwan Iqbal

4670637

/0556450138

36

Autoclave with accessories

For sterilization

37

Bacteriological Incubator

For growing cells at optimum temperature

38

Water Bath

For accelerated reaction, activation of cultures

39

Oven

For drying glassware, etc.

40

Analytical Mill

For milling of mortar specimens

41

Centrifuge

For separation and washing of cells, sediments

42

Compact Benchtop Centrifuge with angle rotor and buckets

For separation and washing of cells, sediments
Staff:
Two lab engineers and a lab technician are able to create specialized test fixtures, complex and large test setups, and a variety of detailed instrumentation networks. They are able to fabricate complex test specimens for structural components and systems made of steel, reinforced concrete, masonry, wood, composites, and other materials. Engineers are capable of acquiring and analyzing complex experimental data and produce reports as well.
1)      Eng. Mohammed Saleem Shaik

(M.S- Structural Engineering)

 


 

 

 

 

2)      Eng. Rizwan Ahmed Iqbal

(M.S- Structural Engineering)  

 

3)      Mr. Abdullah Alwakeel

(Electrical Diploma)

 

 

 

 

 
Photos Gallery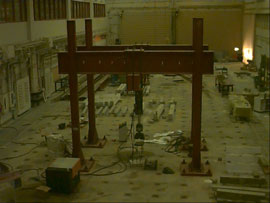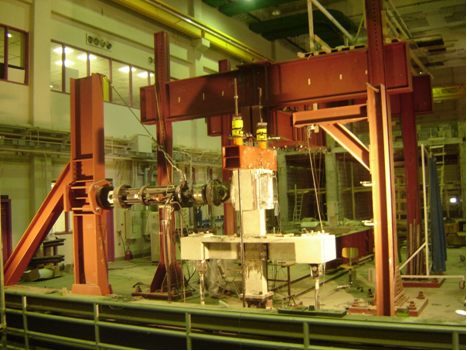 Structural Engineering Laboratory - Full-scale TestingFrame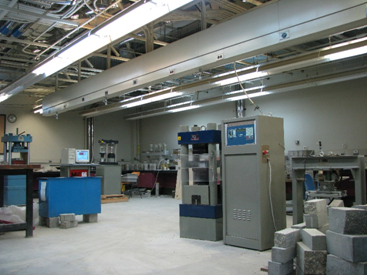 Materials Testing Laboratory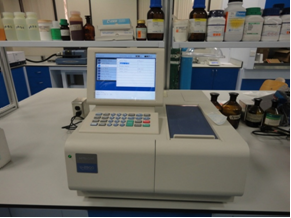 Center of Excellence for Concrete Research and Testing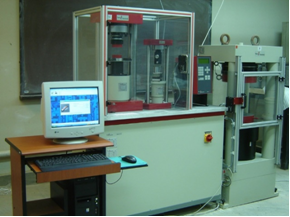 Center of Excellence for Concrete Research and Testing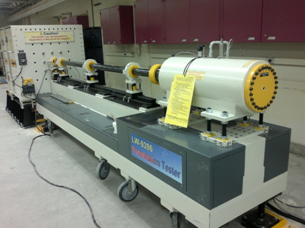 Impact Research Laboratory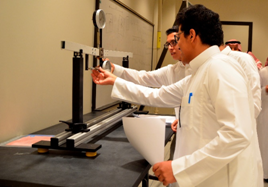 Mechanics of Materials and Statics Laboratory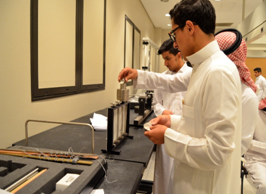 Mechanics of Materials and Statics Laboratory