Geotechnical Engineering Lab
Soil Mechanics (Geotechnical) Engineering Laboratories
Geotechnical Engineering laboratories include two main laboratories:
Soil mechanics lab.

Rock mechanics lab.
These labs provide all lab tests for undergraduate and postgraduate students.
The main tests performed in these two labs are:
1. Soil and rock classification tests.
2. Specific Gravity test.
3. Moisture-Density relations (compaction tests).
4. Field Density test.
5. Permeability of soil tests.
6. Consolidation test.
7. Unconfined compression test.
8. Triaxial tests.
9. Direct Shear tests.
Laboratories provide assistance in performing academic programs for students and faculty research, public establishments and private sectors concerned with soil problems. The lab and field work for the researches and studies funded by King Abdulaziz City for Researches and Technology (KACST) also carried out in these labs trying to solve soil problems in the Kingdom of Saudi Arabia. These two labs also provide and help public research services through performing all lab tests needed for analysis and studies soil problems for public and private sectors.
Apparatus/Facilities in Soil Mechanics (Geotechnical) Laboratories
It includes facilities at Eng. Abdullah Bugshan Research Chair in Expansive Soils
S.No.

Name of Laboratory

Name of Apparatus(Instrument)

or

Facility

Type of Test or analysis performed by the apparatus(Instrument)

Location of Apparatus

Person

In charge

Contact Number

1

Eng. Abdullah Bugshan Research Chair in Expansive Soils

WF Unsaturated Triaxial test
GCTS Unsaturated triaxial test
GDS Unsaturated Triaxial Test
VJTECH Unsaturated Triaxial test

To determine the swelling characteristics of expansive soils under controlled load and suction.
To determine the shear strength and shear strength parameters of unsaturated soil samples

1 B 6

Eng. Jalal  Mahjoub

46-76402

0507463293

2

Eng. Abdullah Bugshan Research Chair in Expansive Soils

Unsaturated Rowe Cell

To determine the compressibility characteristics of unsaturated soils

1 B 6

Eng. Jalal  Mahjoub

46-76402

0507463293

3

Eng. Abdullah Bugshan Research Chair in Expansive Soils

Fredlund SWCC curves device

To determine the soil water characteristic curves of soils

1 B 6

Eng. Jalal  Mahjoub

46-76402

0507463293

4

Eng. Abdullah Bugshan Research Chair in Expansive Soils

Fully and Semi Automated Consolidometers

To determine the consolidation characteristics of saturated soil samples

1 B 6

Eng. Jalal  Mahjoub

46-76402

0507463293

5

Eng. Abdullah Bugshan Research Chair in Expansive Soils

Pressure controlled constant head test

To determine the Hydraulic conductivity of soils

1 B 6

Eng. Jalal  Mahjoub

46-76402

0507463293

6

Eng. Abdullah Bugshan Research Chair in Expansive Soils

Soil Compaction Equipment

To determine the maximum dry density and optimum moisture content of soils

1 B 6

Eng. Jalal  Mahjoub

46-76402

0507463293

7

Eng. Abdullah Bugshan Research Chair in Expansive Soils

Set of Sieves

 

To determine the grain size distribution of granular samples

1 B 6

Eng. Jalal  Mahjoub

46-76402

0507463293

8

Eng. Abdullah Bugshan Research Chair in Expansive Soils

Semi-Automatic California Bearing Ratio (CBR)

To determine the

1 B 6

Eng. Abdullah Shaker

46-70736

0566578065

9

Eng. Abdullah Bugshan Research Chair in Expansive Soils

Pressure plate extraction

To determine the soil water characteristic curves of soils

1 A 33

Eng. Abdullah Shaker

46-70736

0566578065

10

Eng. Abdullah Bugshan Research Chair in Expansive Soils

Pressure controlled falling head test

To determine the Hydraulic conductivity

1 A 33

Eng. Abdullah Shaker

46-70736

0566578065

11

Eng. Abdullah Bugshan Research Chair in Expansive Soils

Permeability Apparatus,Permeation chamber-5 Nodes with over head fibre tank 40L capacity

To determine the permeability

AA 27

Eng. Abdullah Shaker

46-70736

0566578065

12

Eng. Abdullah Bugshan Research Chair in Expansive Soils

Semi-Automatic Unconfined Compression Apparatus

To determine the Unconfined compressive strength

1 B 6

Eng. Abdullah Shaker

46-70736

0566578065

13

Eng. Abdullah Bugshan Research Chair in Expansive Soils

Dynamic Resilient Modulus testing apparatus

 

To determine the means of characterizing pavement construction materials  under a variety of stress states

1 B 6

Eng. Ahmed Al-Mahbashi

46-70732

0562123785

14

Eng. Abdullah Bugshan Research Chair in Expansive Soils

Chilled mirror water potential (WP4C)

To determine the suction of soil

1 B 6

Eng. Ahmed Al-Mahbashi

46-70732

0562123785

15

Eng. Abdullah Bugshan Research Chair in Expansive Soils

Bra bender Plastic – Corder Lab station (Computerized)

Operating each of Extruder and Planetary mixer

1 B 6

Dr. Refat

 El-Sheikhy

46-75690

0562880105

16

Eng. Abdullah Bugshan Research Chair in Expansive Soils

Twin Screw Extruder DSE 20/40 D with 5 zones of heating with main feeder and side feeder for dry additives (Computerized)

 

Producing Nanocomposites         (Clay based polymer nanocomposites).
 Mixing polumers with dry and liquid  additives

1 B 6

Dr. Refat

 El-Sheikhy

46-75690

0562880105

17

Eng. Abdullah Bugshan Research Chair in Expansive Soils

Dosing Pump

To add liquid additives

1 B 6

Dr. Refat

 El-Sheikhy

46-75690

0562880105

18

Eng. Abdullah Bugshan Research Chair in Expansive Soils

Bra bender Universal docking station for extruder (Computerized)

Controlling the operating options and parameters of  the extruder

1 B 6

Dr. Refat

 El-Sheikhy

46-75690

0562880105

19

Eng. Abdullah Bugshan Research Chair in Expansive Soils

Bra bender Universal docking station for the planetary mixer (Computerized)

Controlling the operating options and parameters of  the Planetary mixer

1 B 6

Dr. Refat

 El-Sheikhy

46-75690

0562880105

20

Eng. Abdullah Bugshan Research Chair in Expansive Soils

Bra bender Planetary Mixer P 600  ( Computerized)

 

Mixing polymers such as PVC and Polyolefin under thermal stresses for mixing and measuring the absorption ration of the additives

1 B 6

Dr. Refat

 El-Sheikhy

46-75690

0562880105

21

Eng. Abdullah Bugshan Research Chair in Expansive Soils

Water path

 

Cooling the nanocomposite products

1 B 6

Dr. Refat

 El-Sheikhy

46-75690

0562880105

22

Eng. Abdullah Bugshan Research Chair in Expansive Soils

Bra bender Granulator

( Computerized)

Granulating the nanocomposite product

1 B 6

Dr. Refat

 El-Sheikhy

46-75690

0562880105

23

Eng. Abdullah Bugshan Research Chair in Expansive Soils

Fritsch Laser Scattering Particle size analyzer

(Computerized)

 

Measuring and analyzing the nano and micro particles using wet analysis system by Green laser, infrared beam, and ultrasonic

1 B 6

Dr. Refat

 El-Sheikhy

46-75690

0562880105

24

Eng. Abdullah Bugshan Research Chair in Expansive Soils

Perkin Elmer – PinAAcle 900T

Atomic Absorption Spectrometer

a combined flame/longitudinal Zeeman furnace system.

AA 7

Eng. Mohammed Misbahuddin

46-76412

0542050520

25

Eng. Abdullah Bugshan Research Chair in Expansive Soils

Elga Purelab Flex 2 UV/TOC

Water Purification System

AA 7

Eng. Mohammed Misbahuddin

46-76412

0542050520

26

Eng. Abdullah Bugshan Research Chair in Expansive Soils

HS260 Control Horizontal Shaker

Compact, flat shaker with ideal swivel motion, for a maximum shaking weight of 7.5 kg.

AA 7

Eng. Mohammed Misbahuddin

46-76412

0542050520

27

Eng. Abdullah Bugshan Research Chair in Expansive Soils

Hermle Universal Centrifuge

for the separation of materials or mixtures with different densities.

AA 7

Eng. Mohammed Misbahuddin

46-76412

0542050520

28

Eng. Abdullah Bugshan Research Chair in Expansive Soils

Stuart Incubator Orbital Shaker

To doing cell culturing procedures.

AA 7

Eng. Mohammed Misbahuddin

46-76412

0542050520

29

Eng. Abdullah Bugshan Research Chair in Expansive Soils

VWR Digital Conductivity Meter

To measure conductivity in water analysis, biotechnology, life sciences, environmental studies

AA 7

Eng. Mohammed Misbahuddin

46-76412

0542050520

30

Eng. Abdullah Bugshan Research Chair in Expansive Soils

Digital pH Meter

To measure the hydrogen-ion activity in water-based solutions, indicating its acidity or alkalinity expressed as pH

AA 7

Eng. Mohammed Misbahuddin

46-76412

0542050520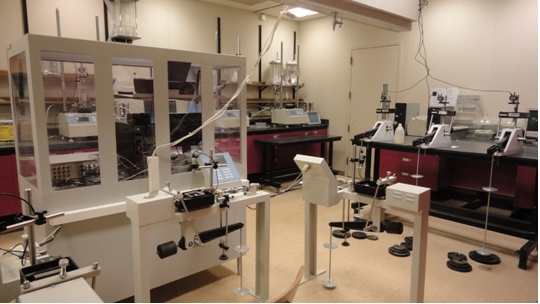 Soil Mechanics Laboratory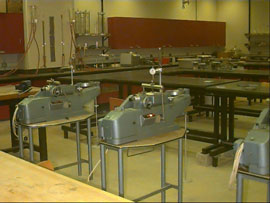 Soil Mechanics Laboratory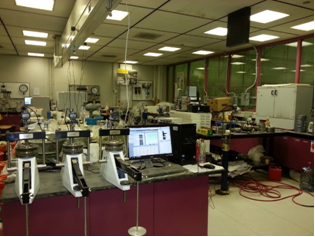 Expansive Soils Laboratory - Eng. Abdullah Bugshan Research Chair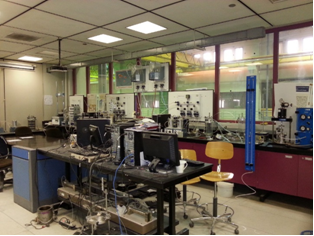 Expansive Soils Laboratory - Eng. Abdullah Bugshan Research Chair